DESCRIPTION :
We are Manufacturers, Exporters & Leading Suppliers of Test Switch / Test Switches Located in Mumbai, India. The housing is robust, high grade phenolic moulding, capable of long, trouble free performance in varied climatic conditions. It is designed and manufactured for indoor application. The terminals are brass, duly nickel plated. The contacts are spring loaded, silver plated and supported by phosphor bronze strips. Each contact is separated with a SRBP shroud. Screws are provided at the rear for terminations. Alternatively, studs with nuts and washers could also be provided. Sealing holes on cover studs are provided to prevent unauthorized access. The front cover can be removed for test purpose and replaced, thereafter. This cover is fitted with a silver plated contact finger to close the trip contact, when inserted. Otherwise, the trip contact would remain open. Thus the contact finger on the cover, completes the entire circuit. Isolation of the trip circuit is feasible by removing the contact finger fitted to cover thus avoiding unwarranted tripping under test conditions.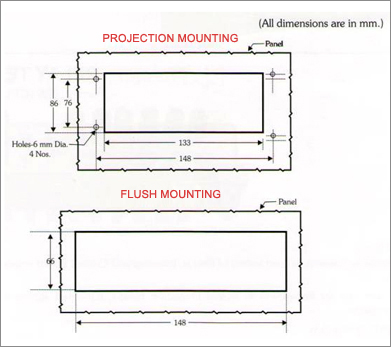 INSULATION
Conforms to requirements of IS-3231
Tested for 2.5 KV. IR Value - 100
MOUNTING
Test block can be projecting or flush mounted
OVERALL DIMENSIONS
Height - 100 mm Width - 180 mm Depth - 88 mm
Add 25mm for blocks with terminal screws or add 40 mm for blocks with terminal studs.